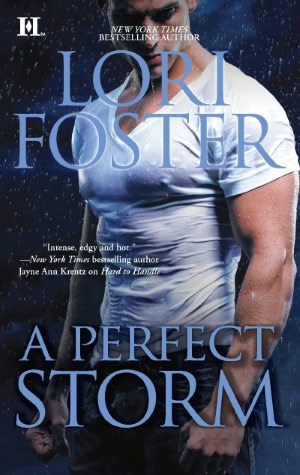 The Perfect Storm
Lori Foster
Men Who Walk the Edge of Honor,#4
HQN Books
March 27, 2012
448 pages
Amazon|B&N
provided by MediaMuscle
RBM's Disclaimer
5/5 Books
He never saw her coming…

Spencer Lark already knows too many secrets about Arizona Storm, including the nightmare she survived and her resulting trust issues. But in order to expose a smuggling ring—and continue avenging his own tragic past—the bounty hunter reluctantly agrees to make Arizona a decoy. Yet nothing has equipped him for her hypnotic blend of fragility and bravery, or for the protective instincts she stirs in him.

Arizona wants to reclaim her life, which means acting as bait to lure the enemy into a trap. Sure it's dangerous, especially with a partner as distractingly appealing as Spencer. But as their plan—and their chemistry—shifts into high gear, Arizona may discover there's an even greater risk in surrendering her heart to a hero….
About The Author:
Lori Foster first published with Harlequin in January 1996. Her second book launched Temptation Blaze and her 25th book launched Temptation Heat. Since those early days, Lori has routinely had 6 to 10 releases a year. She's a Waldenbooks, USA Today, Publisher's Weekly and New York Times bestselling author with over 50 titles published through a variety of houses, including Berkley/Jove, Kensington, St. Martins, Harlequin and Silhouette.
Connect With The Author:
Website | Facebook | Twitter
I'm pleased to announce that Reviews By Molly is part of the Scavenger Hunt on Lori's tour! Please sit back and enjoy this sneak peek into the amazing work of Lori:
Seeing her slumped in a kitchen chair, arms crossed, one foot hooked behind a chair leg, jolted his senses even more.

God Almighty, she was a beauty.

Slim, long-legged and generously stacked, with a face like a wet dream, Arizona would turn heads wherever she went. Dark, wavy hair hung down her back, usually in disarray. Honey-colored skin seemed in direct contrast with light blue, heavily lashed eyes. A full mouth, a strong chin, high cheekbones…

He wondered at the mixed heritage that had produced such a dream.

As he stood unnoticed in the doorway, she chewed at a thumbnail. Arizona didn't wear makeup, or polish her nails, or do much of anything to enhance her looks— and she didn't need to.

Next sneak peek available at: www.ataleofmanyreviews.com
My Review:
Holy passionate suspense, Batman! Wow! I absolutely adore Lori Foster. She is my absolute favorite author when it comes to writing intense, humorous, passionate suspense novels. I read one of her books some time back before I started blogging and fell in love. So, while I'm incredibly sad that I didn't to read the first three novels in this series, I'm totally and utterly in love with this one and I am so glad to have had the chance to review it. And, exactly like it's cover, it's hot!
I adore Spencer's character. He's super sexy in every way, and he's in love with Arizona from the start. Though, honestly, I wanted to pop him in his head more than once. Grrr! He was blind when it came to his feelings for Arizona. He's still in love with his wife, but there is definitely something going on when Arizona is around. He blames age for not wanting to take a chance. After all, he's 11 years older than her 21 years. But, he can't deny the need to fiercely protect the amazingly stunning beauty from all that she's dealt with.
Arizona's a character who steals your heart just from what she had to endure as a teenager. Sold into a human trafficking ring by her father, all she knows is men who use and abuse. She's left for dead by her captors, until her saving grace, Jackson, rescues her. Now, all she can think about is helping others who are in the situation she was once in. So, she enlists the help of Spencer, the sexy, gorgeous man who sought revenge on his wife's killer when Jackson rescued Arizona. There's just one problem. She can't deny what she feels for this incredibly kind, passionate man, and she wants nothing more than to trust him. But she's not sure she can get past her storm and move forward with him.
Together these two amazing characters, who fit together like puzzle pieces, embark on a rough, intense case of busting the smugglers. As their journey progresses with ploys and action, the reader is taken along side them, feeling every incredible piece of the story.
I can most definitely say that I recommend this with beyond 5 Books and two thumbs. It's definitely on my shelf to stay forever. From roller coaster twists, to hot, passionate romance, this story is one of the best I've read in along time. While this is book 4 in the series, this book is easily read as a stand alone title. Ms. Foster does a fantastic job at keeping the reader up to date with everyone and all the events that you feel like you've been a part of the story from the start. I can't wait to go back and get my hands on all the other drool worthy installments to the Men Who Walk The Edge Of Honor series. Rock on, Ms. Foster! Keep those hot, gorgeous,swoon worthy men coming!



a Rafflecopter giveaway