What happens in Vegas…can lead to romance.
It took one wild night for Sergeant Jeremy Addison to realize that Vegas? Was a bad idea.

Bloody. Bruised. Dehydrated. Abandoned in the desert, and left to stagger down the road. The only way this leave could get worse was if his savior was his ex-best friend's sister…and the girl he'd loved since childhood.

The last person Erica expected to find on the roadside was her high school crush. She hadn't seen Jeremy in seven years—ever since the night he said he loved her, and she ran away. Losing him then had been a mistake, but wanting him now could be catastrophic if he discovered the secret that chased every other man from her life. But with a tall, tattooed Marine determined to prove he's always been faithful, can Erica resist his advances…or will she surrender ground and give love a try?

Guest Post
First Impressions
A lot of people will tell you not to judge a book by its cover. They'll also then turn around and tell you that first impressions are everything. Hearing these two in one paragraph can be a bit confusing, no? My name is Jeremy, from Diane Alberts' latest Try Me (Take a Chance #1), and I'll tell you this much: My cover is hot. Go ahead. Look. You know you want to.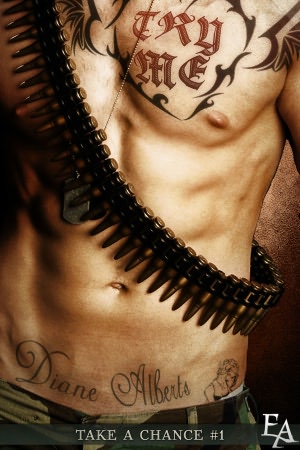 Okay, now that you've seen it, I'll continue. To glance at me, one would notice three things right away: I'm a Marine, I'm in good shape, and I have tattoos. One would assume, from my appearance, that I'm a bad boy who causes trouble. I grew up on the wrong side of the tracks.
This would all be correct. But what you don't see…is that I have been in love with the same woman ever since middle school. You don't see that I told her I loved her, and she ran from me. You don't see that my best friend betrayed my trust, and abandoned me when I had no one else in my life who cared. And when I lost him…I lost that girl. She's his little sister.
I've never gotten over her. I'll never get over her. I love her with all of my heart, but I hide that behind tattoos and a grin. I hide it from my squad. I hide it from her.
So, the whole point behind this journal entry is that you can judge a book by it's cover…but don't be surprised when it comes back and surprises you with what is on those pages inside.
And one last thing before I head to Vegas for some R&R. If you want to win an eReader or a signed poster with my abs on it, then stop by Diane Alberts' website and enter to win. You can tweet about the entry, or gain extra points if you buy my book. Either way—come on over.  http://dianealberts.com/contestsgiveaways/a-new-contest-for-a-free-e-reader-if-try-me-hits-the-top-100-entangledpub/
Sincerely,
Jeremy
About the Author: 
Diane Alberts has always been a dreamer with a vivid imagination, but it wasn't until 2011 that she put her pen where her brain was, and became a published author. Since receiving her first contract offer, she has yet to stop writing. Though she lives in the mountains, she really wishes she was surrounded by a hot, sunny beach with crystal clear water. She lives in Northeast Pennsylvania with her four kids, a husband, and a Senegal parrot. In the rare moments when she's not writing, she can usually be found hunched over one knitting project or another.
She is a multi-published, bestselling author with Entangled Publishing and Decadent Publishing. She has, as of this date, three books with Entangled Publishing, and five books with Decadent Publishing. Her February release with Entangled Publishing, ON ONE CONDITION, hit #18 on the Barnes and Noble Bestseller List.
Connect With The Author:
Website~Facebook~Twitter