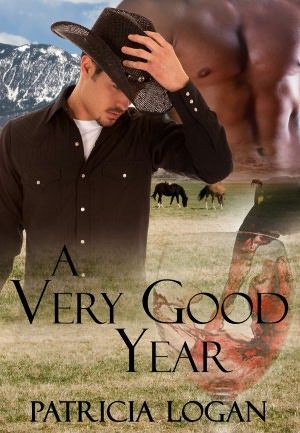 Title ~A Very Good Year~
By Patricia Logan
Publisher ~ Rebel Ink Press, LLC
Published ~ December 15, 2011
My Rating ~ 5 out of 5

This story is most definitely not for the faint of heart. It's a wonderful, emotionally layered novel of hope, understanding, letting go and loving. Ms. Logan captivated me completely from page one, held me in an emotional whirlpool, and let me go at the last page, but not a minute before. I fell in love with Dmitri Hernandez and my heart twisted and ached from him. He's been through so much as a child and into adult hood!
After changing his life around, getting an education and moving to the Lazy E Vineyard and Dude Ranch in Texas, Dmitri meets Maverick Walker, a very sexy, rough around the edges cowboy that stirs his heart and lust. He's told himself all he wants is sizzling hot passion with him, not love. Then he lays eyes on Carlo Degli Esposti, a super sexy Italian wine expert. Both of these men take Dmitri's heart on a rollercoaster ride, and he can't help but feel as though there's more to life than just lusting. Could this be his year to fall in love with one of these men forever? Or will his past haunt him for ever, leaving him broken and alone?
I absolutely adored every minute of this book. I read it back to back with book 1, Captive Lover, and was so glad that Dmitri's story was told. Ms. Logan did a wonderful job of transitioning to Dmitri's tale, and creating the complex characters, blending them with the rich details of Texas and ranching. The passion was sizzling hot; the sex scenes were amazing! These three men are not only sexy, they work your way into your heart to forever stay.
I am so glad that I had the chance to read this! Definitely a highly recommend novel. I am a forever fan of Ms. Logan, loving her uniqueness and vivid attention to romance and heartache. I am looking forward to reading book 3, The Cowboy Queen (Maverick's story!) next! Amazingly done, Ms. Logan.